Grignan
A few days after our arrival in France we find ourselves by the picturesque village of Grignan in  Drôme.
Flower Camping Les Truffières is in walking distance of the village through lavender fields and eventually across a busy road.  However, there appears now to be a small municipal site in the village itself that we hadn't noticed before.  Maybe it is new.  There is not much for tourists here other than to enjoy the relaxed ambience of the place and visit the Châteaux, an impressive structure on top of the rock, with good views.
Châteauneuf-du-Pape
21st of June.  This place needs no description.  Or comment.  Or anything much, other than pointing out that the town a bit of a trek from the campsite, and you wouldn't want to be carrying a case back on a hot day.
Rustrel
Sunday 22nd takes us to Rustrel.  Walking from Camping Colorado to the attraction Le Colorado Provençal, and on such a hot day was not too pleasant.  Even less pleasant was a coachload of militant tourists with walking poles, hell bent on seeing everything as quickly as possible and trampling over anything and anybody unfortunate enough to impede their relentless progress.  Tossers.  The site itself, though undoubtedly orange as expected, was not as impressive as the tourist guides make out.  All the orangeness and outcrop are spread over the region, so maybe more research is needed into what this area has to offer.
Saint-Mitre-les-Remparts
By Thursday 26th we are at Camping Neptune at Massane Plage by the calming water of the Étang de Berre.  From the near the campsite buses go to Istres and Martigue.  We chose to go to Martigue, where there are plenty of shops and bars and a very pleasant layout of canals and harbours.  River jousting happens in the summer.
Chambéry
Friday 27th now and we are the campsite at Challes les Eaux on the outskirts of town.  There is a regular bus service into the city centre, so off we went.  This place has seen better days.  The French equivalent of scruffy gents clutching cans of special brew were in abundance, leading to a feeling of insecurity.  It's unlikely we be back here for a while, at least until it has undergone some regeneration.  The campsite on the other hand was good, so we need to find out where else the buses go.
Langres
30th June and pitched up at Camping Navarre, a basic but fine campsite a short walk from town and offering good views of the surrounding area.  Town is on top of a rock surrounded with walls and gates reflecting its status in the middle ages.
Reims
1st of July and back at Guignicourt on the river Aisne.  Next day we get the train to Reims, which is much nicer than Chambéry.  To our surprise, there is a motor museum here – Musée Automobile Reims Champagne.  The collection is large and diverse, but the vehicles are close together so getting an all round view of each is not so easy.  There is also a large display of pedal cars.  The museum is quite a tramp from the city centre, so next time we will get a bus.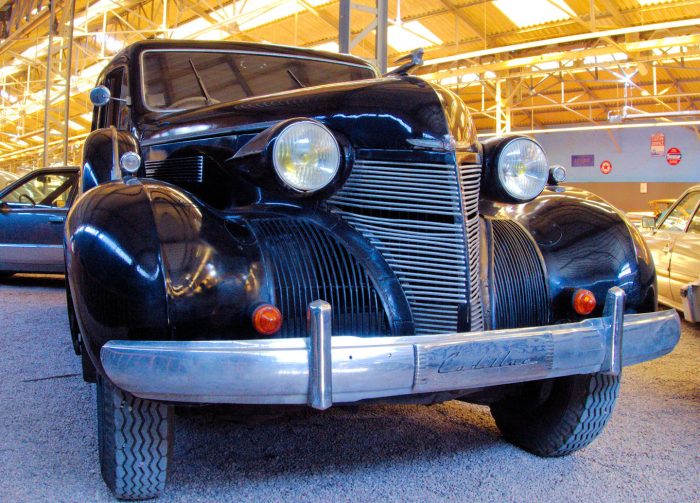 1930 Cadillac 75 – in right hand drive
There is a fine cathedral here as well – next time we might give that a look.
Montreuil-sur-Mer
3rd July and our last day in France is at Montreuil-sur-Mer.  It is a steep walk up to the town from the campsite.  This place is pleasant but nothing out of the ordinary, other than a walk around the ramparts which we didn't have time for.  At about an hour from the tunnel it is a fine stopover on arrival or on the way home.